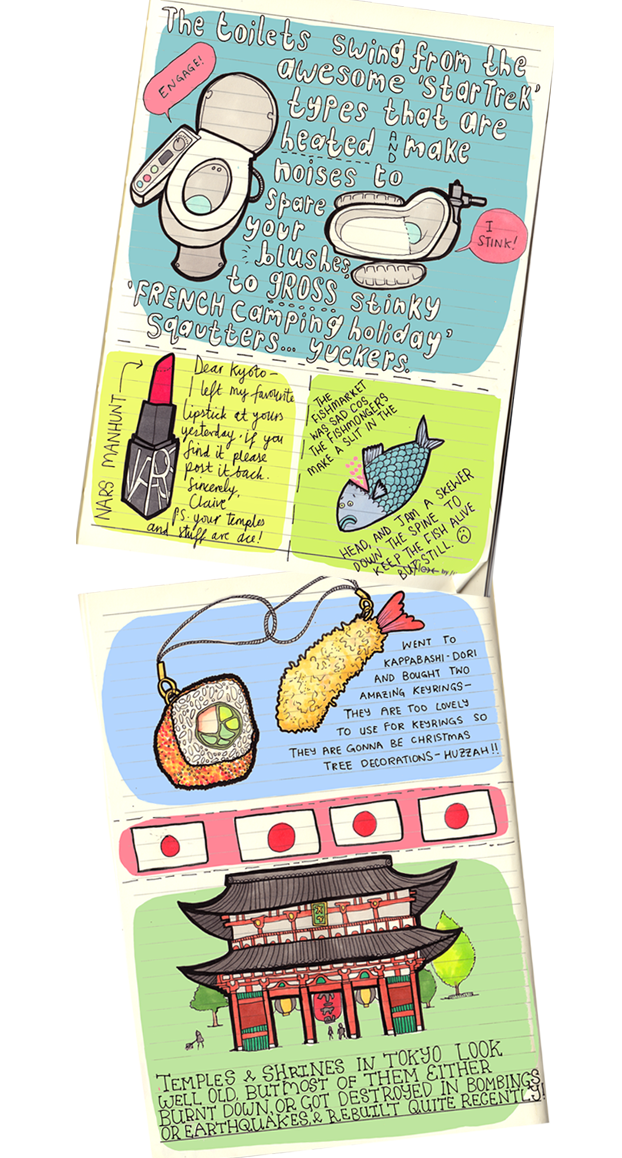 Well, here are my Filofax Flex drawings. Not so much a diary of a day, as some notes on Japan (aren't foreign places different!!!!!). The planner was incredibly useful when I was away, and the paper is a dream to draw on and takes my marker pens well. As you can imagine, Japan was brilliant and I am glad I have this little visual reminder of all the fun things I saw and did. There will be lot's more illustrators getting involved in the challenge, including my talented pal Kate Hazell, (I'll post the Filofax link as soon as I have it).
x
Posted November 8, 2012 Exposure!, Projects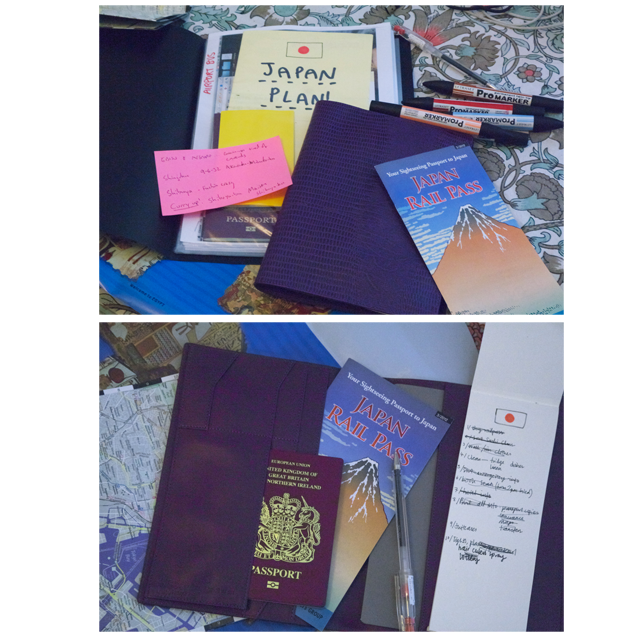 Filofax have asked me to be part of their blogger drawing challenge, and it couldn't have come at a better time- I'm off to Japan tomorrow…Huzzah! The A5 organiser they sent me has a perfect 'list' notebook, and has prevented at least two 'WHERE IS MY PASSPORT/BOARDING PASS/INSURANCE DETAILS?!' moments so far, so in my eyes is total holiday genius.
The challenge is to fill a page with drawings that represent my life as an illustrator in a day, and even though hanging in Japan is a far cry from my real day-to-day life, I can't wait to record all the ace things I'm going to see. Especially the food- I cannot wait to try real proper everyday japanese sushi and noodles. I've even got a class booked to learn how to make sushi, so here's hoping after that, I have enough fingers left to complete the challenge!
I will also be doing a give away of 2 A5 Filofax Flex's later in the month, so keep your eyes peeled.
Sayonara!
x
Posted October 24, 2012 Exposure!, Projects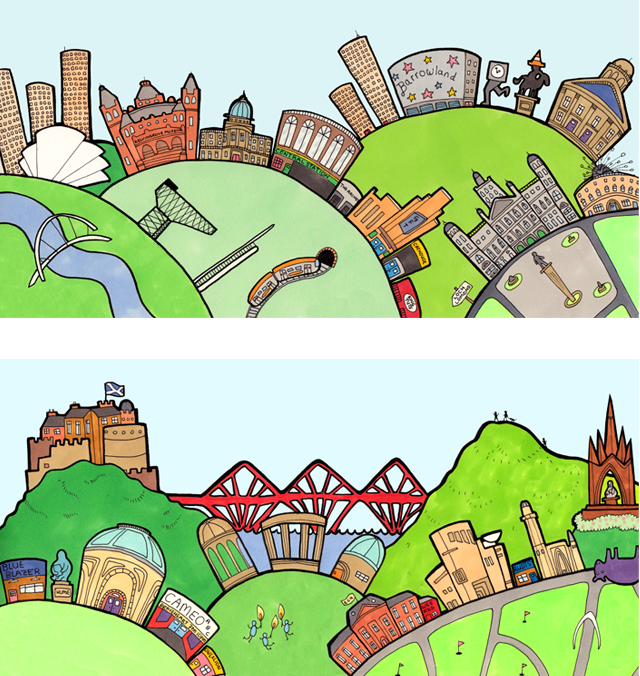 Glasgow top, Edinburgh bottom.
Posted August 20, 2012 Exposure!, Map, Men, Women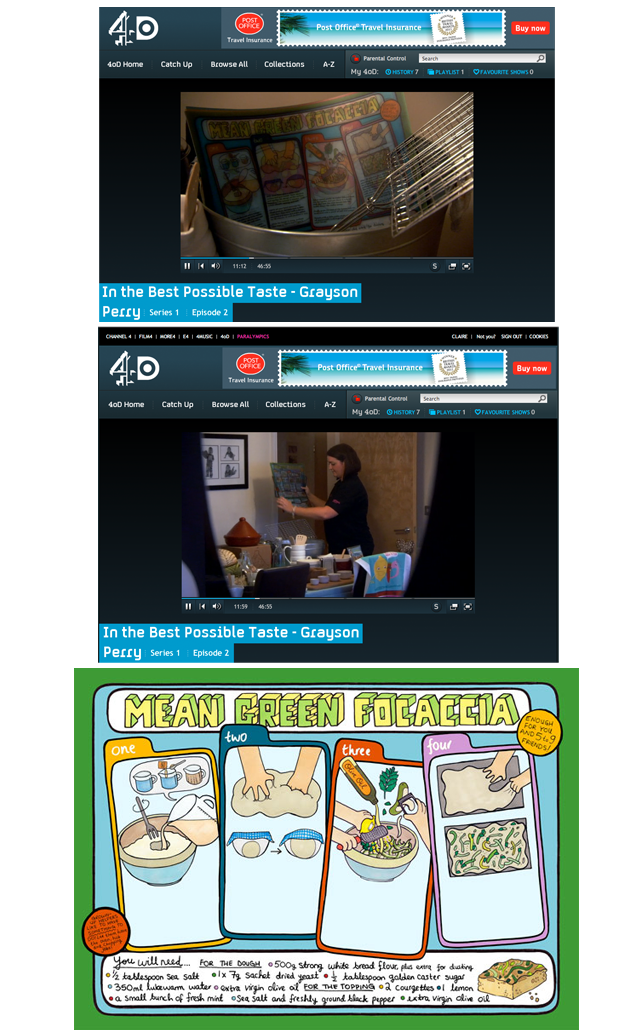 My recipe cards had a fleeting appearance on telly the other night thanks to Grayson Perry. He was at a 'Jamie At Home' party chatting to women about the middle classes for his show In The Best Possible Taste and one of the items shown was my wonderful recipe cards…Huzzah!
Posted June 14, 2012 Celebrities, Exposure!, Jamie Oliver, Recipes, TV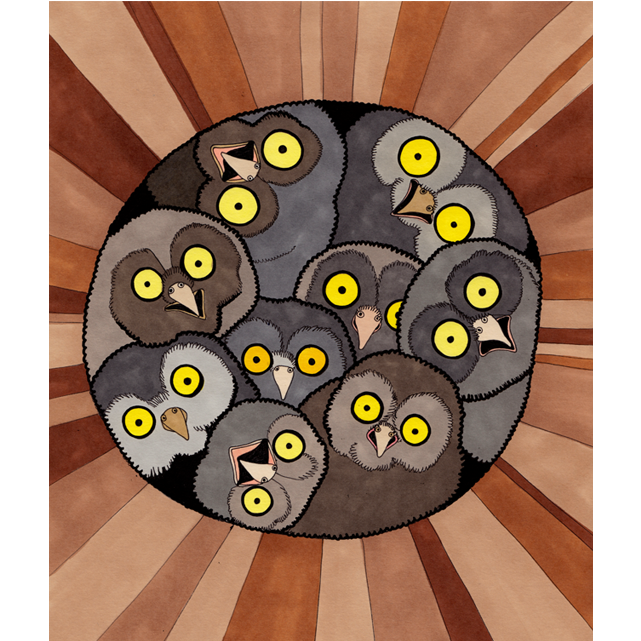 My submission for Raws 5th birthday fundraiser. It will be on sale to raise money for Salford charity The Wood Street Mission, and there are lots of great artists contributing work so if you are in the area pop along and bag yourself a great bit of art and help out a charity too!
Happy Bird-day Raw!
Posted August 25, 2011 Animal, Birds, Exposure!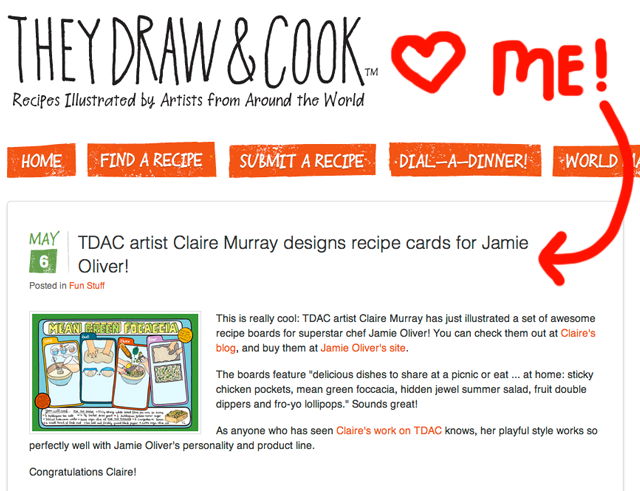 Posted May 9, 2011 Exposure!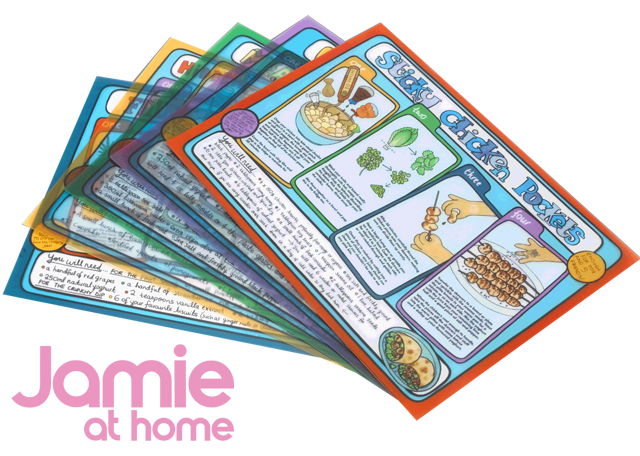 "Calling all budding chefs! Feel like making something good to eat? With this set of five easy-to-clean recipe boards, you've got five yummy dishes to choose from, and best of all you can make them yourself. Each board gives you a list of ingredients and four simple steps for making them into something tasty for your favourite friends and family. Make these delicious dishes to share at a picnic or eat them at home: sticky chicken pockets, mean green foccacia, hidden jewel summer salad, fruit double dippers and fro-yo lollipops. They come with a new Kitchen Crusaders adventure, illustrated by Claire Murray, all about the gang getting ready for the best picnic of the year."
Available to buy HERE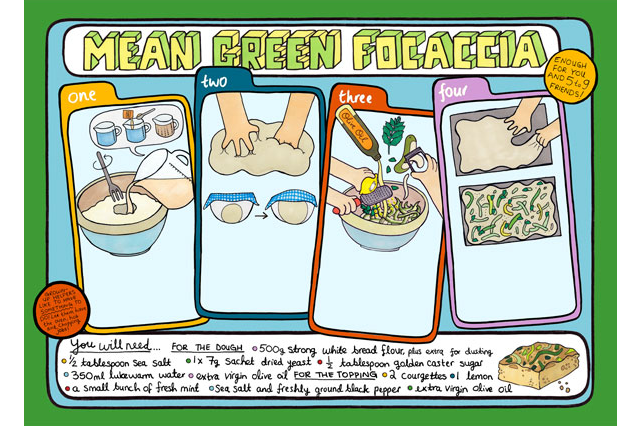 Example of original artwork.
Posted May 4, 2011 Exposure!, Food, Jamie Oliver, Projects, Recipes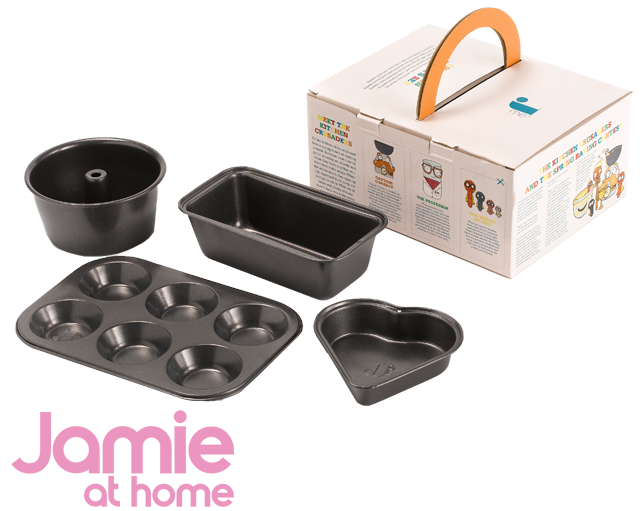 This set features the fabulous Kitchen Crusaders, a ragtag bunch of cooking utensils who live on the shelves of the kitchen cupboard. When the action starts, they open the door and jump out, using their incredible skills to transform kitchen chaos into an amazing spread of delicious dishes. Inside this easy-to-carry box, you'll find four mini baking tins for little bakers. The heart tin, loaf tin, six-hole muffin tray and ring-shaped tin each come with its own special recipe card for making scrumptious cakes. Made from professional quality quantum 2 carbon steel with a two-layer, non-stick coating.
Available to buy HERE!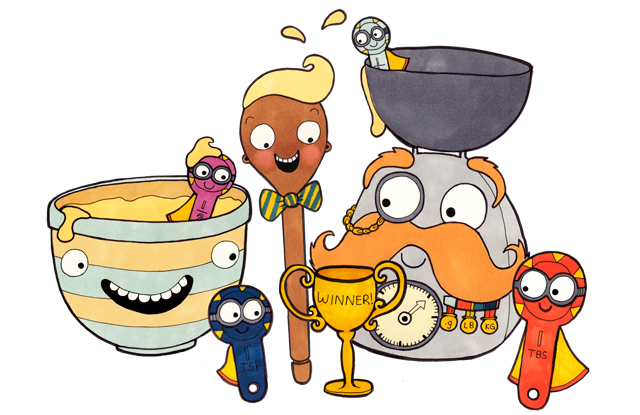 Some of the original artwork.
Posted May 4, 2011 Exposure!, Food, Jamie Oliver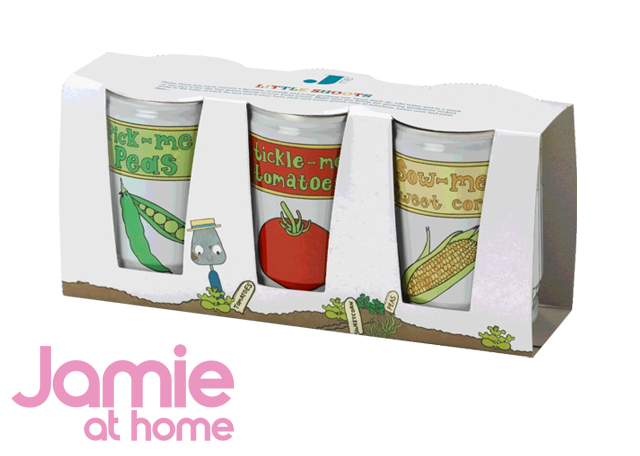 These three tins each contain a sprinkle of seeds and some growing mix. Open them up, add water and in a week or two you'll see the tiny green shoots of your baby plants. Make sure you follow the growing guidelines tucked away in the base of each tin and you'll soon have your own crop of tomatoes, sweet corn and peas. On the side of the box you can read a brand new Kitchens Crusaders adventure, illustrated by Claire Murray, all about how they started their own veg patch and met their new friend Little Digby, the tiny trowel.
Available to buy HERE!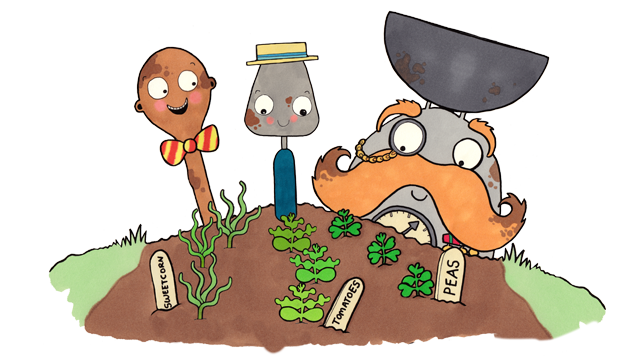 The original illustration of Robin Wood, Little Digby and Captain Correct admiring their home-grown bounty.
Posted May 3, 2011 Exposure!, Food, Jamie Oliver, Lettering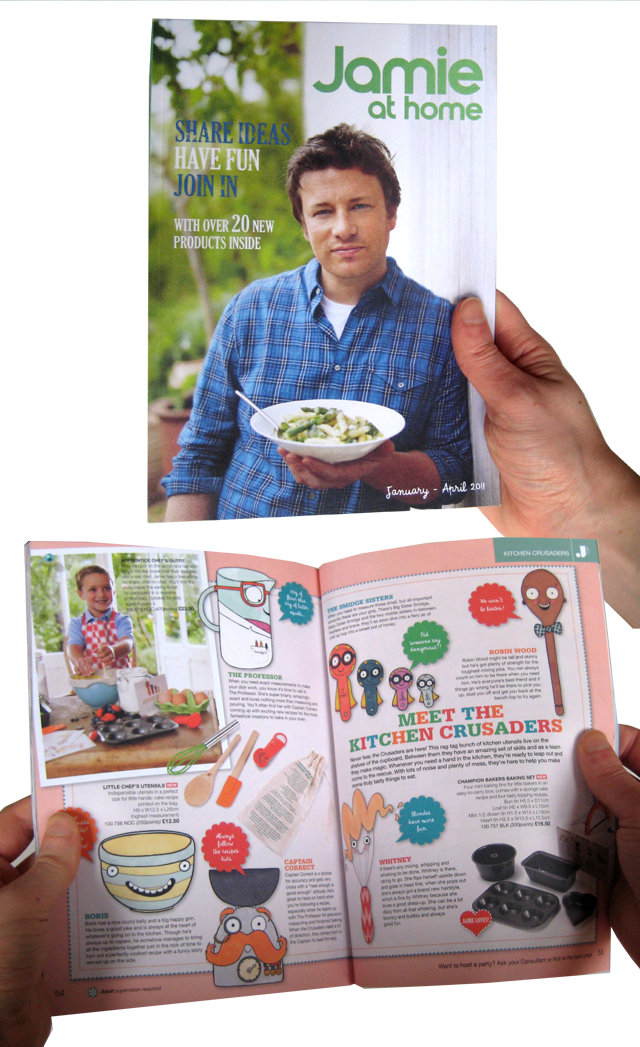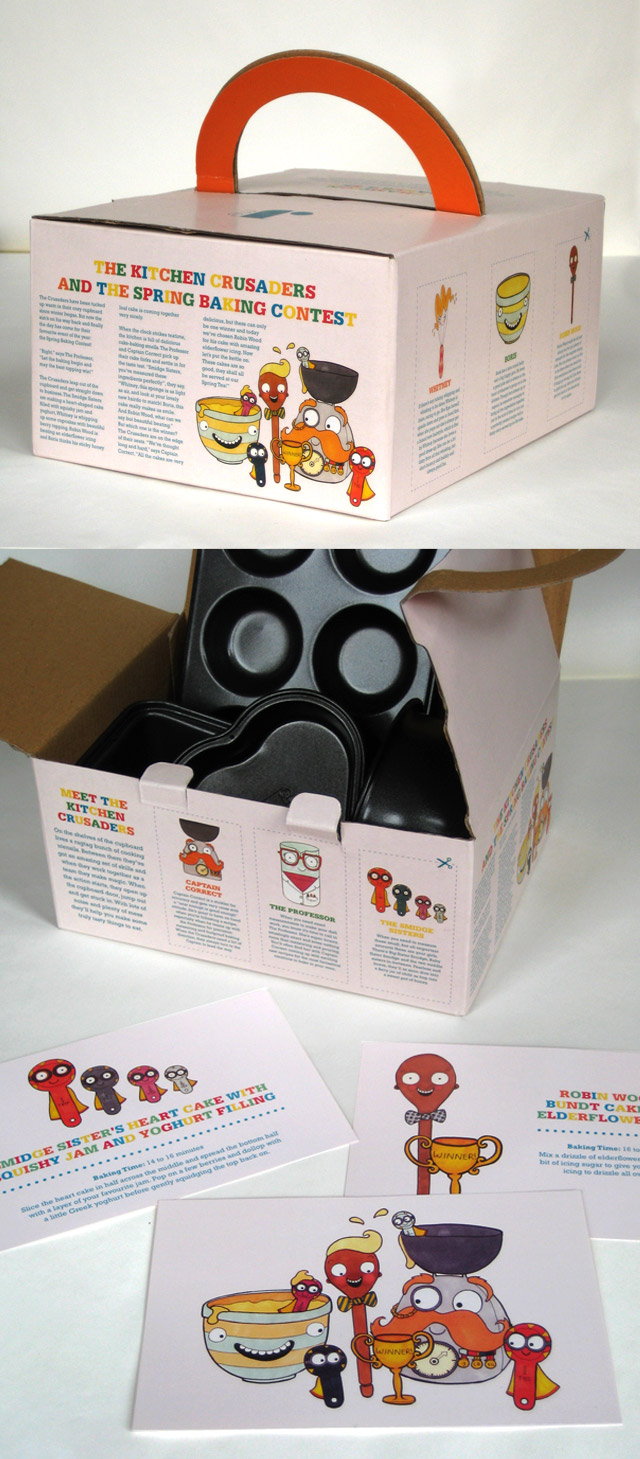 Character development and illustrations for recipe cards, packaging and products.
More to come as they are released….
Posted March 30, 2011 Childrens, Exposure!, Jamie Oliver