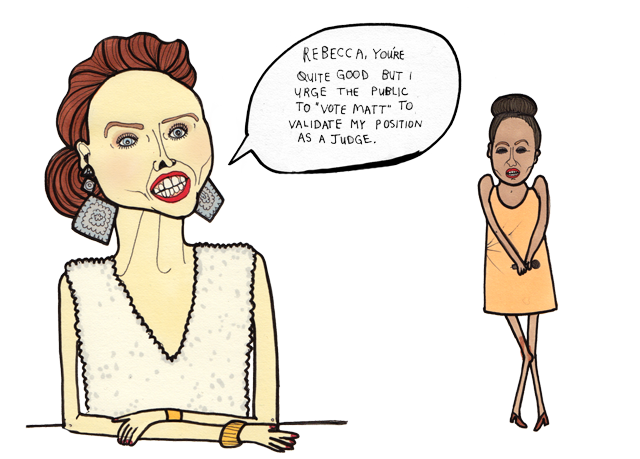 Well done Matt blah blah blah…I just didn't care about the final this year. It took too long to announce and I was bummed One Direction didn't get through to the final two. Now that Dannii has had a winning act, does that mean she will still be a judge next year? There are rumours that Simons replacement next year will be James Corden (who is as qualified to judge singing as Alisha Dixon is to judge dancing). I will miss Cheryl if she goes to the US next year, and I hope Louis stays on- he is a dafty but a sincere dafty.
The duets section on Saturday was so cringy! Xtina/Rebecca looked very akward and Matt looked like he needed a cold water hose-down within 20 seconds of Rhianna appearing on stage. Robbie did a good job with the boys, and it was nice to hear from Simon that he had made an effort in rehearsals to put the act at ease.
Sunday was boring, a series of tedious re-caps interspersed with an appearance from the now ubiquitous Take That, finalist songs and mental outside broadcasts (face pizza anyone?!). By the time the results were shown I was finding it hard to care, in my view Matt and Rebecca will release the same sort of bland music that Leona/Burke/McElderry have done in the past. I will be looking forward to seeing what Cher releases, hopefully something genuinely current and exciting (maybe with a little help from Cheryl?).
I didn't enjoy the parading of the 'wacky' auditionees, that felt exploitative and unnecessary.
PS
Did anyone catch The Xtra Factor where Konnie revealed that at the Bootcamp stage, 2 out of the 4 judges thought that Gamu was going to win…Ouch.
Posted December 13, 2010 Celebrities, Portrait, TV, Women, X Factor